All Menu Items Made from Scratch
– Seasonal Fruit Bowl *gf *V
– Yogurt Plain or Vanilla served with granola and fresh berries
– Butter croissants
– Mini Breakfast Muffins  choices include: chocolate chip, raspberry lemon zest, blueberry, mixed berry, and orange 
– Lox Cold Smoked Salmon) flatbread with red onions, capers, and an herbed cream cheese spread
– Roasted Turkey with brie, cranberry aioli, caramelized onion, lettuce. Served on French and seeded baguette segments
– Veggie with pesto, provolone, balsamic marinated red onions, cucumber, tomato, and alfalfa sprouts. Served on French and seeded baguette segments
– Ham and Swiss with pickles, mustard aioli, lettuce, tomato. Served on soft white Italian hoagie segments 
– Roast Beef with pepper jack, Ortega chilies, mustard aioli, lettuce, red onion. Served on soft white Italian hoagie segments 
– Italian with salami, prosciutto, ham, provolone, lettuce, red onion, tomato, and Italian dressing. Served on soft white Italian hoagie segments.   
– Chicken Salad with apples, grapes, and walnuts, served on mini croissants
– Bay Shrimp and Red Crab Salad Sliders, served with crunchy romaine on a Hawaiian roll
Bread choices include: French or seeded baguette, soft white Italian hoagie, mini croissants, Hawaiian roll
– Scrambled Eggs Hot & Fluffy *gf
– Mexican Scrambled Eggs with chorizo, bell peppers, onions, and cheese all scrambled together. Can also be made with soyrizo! *gf
– Frittata Artichoke, bell pepper, spinach, mushroom and feta cheese, baked casserole style *gf
– Strata Bacon, broccoli, and three cheese strata (Like a Frittata with biscuits baked in!)
– Eggs Benedict with Ham or Florentine with spinach and tomato, topped with a poached egg and cream cheese Hollandaise. Served on a toasted English muffin (*Onsite oven and onsite chef required)
– Made to order or make your own breakfast burritos with choice of breakfast meats and veggies. Rolled in flour tortillas (*Onsite chef required)
– Omelet Bar with ham, bacon, sausage, crab, spinach, mushrooms, bell pepper, onion, cheese, salsa Fresca. Other ingredients may be available by request *gf (*Onsite chef required)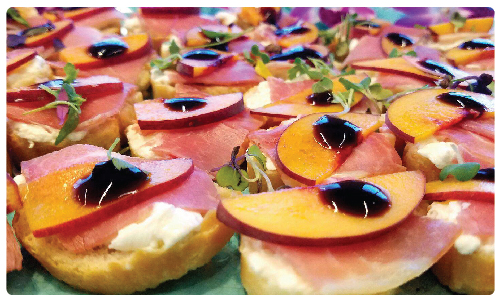 – Buttermilk Pancakes plain or with seasonal berries (*Onsite chef required)
– French Texas Toast soaked in a cinnamon egg custard and pan fried (*Onsite chef required)
– Sweet Croissant Casserole Breakfast Bread Pudding!) Served with seasonal fruit compote and fresh whipped cream
– Homemade Biscuits with country sausage gravy (*on site oven required)
– Breakfast Meats (pit ham, bacon, homemade sausage patties or links) *gf
– Country Style Breakfast potatoes with onions and bell peppers *gf *V
– Hash Brown Golden Patties *gf (Onsite Chef required)
– Traditional Garden Salad with romaine, cucumbers, radishes, cherry tomatoes, shredded carrots, and avocado. Served with country ranch or a roasted garlic balsamic vinaigrette *gf (balsamic for *V)

– Tropical Spinach Salad with shredded cabbage, scallions, carrots, mandarin oranges, sliced almonds, sesame seeds, and crispy rice noodles served tossed with a sweet tamari vinaigrette *gf *V
– Summer Spinach Salad with strawberries, goat cheese, roasted asparagus, and candied walnuts with a roasted garlic balsamic vinaigrette *gf
– House Salad with field greens, sliced apples, strawberries, walnuts, grape tomatoes, and shaved manchego cheese tossed in a blackberry vinaigrette *gf
– Roasted Beet Salad with mixed baby greens, arugula, fresh roasted beets, walnuts, goat cheese, and grape fruit segments. Drizzled with a roasted garlic balsamic vinaigrette. *gf
– Pear and Bib Baby bib lettuces, thin sliced pears and red onion, fresh bacon lardons. Tossed with a creamy blue gorgonzola dressing and garnished with candied walnut crumble *gf

– Fall Apple Salad with lots of seasonal sliced apples, mixed greens, watercress, roasted hazelnuts, and Manchego cheese. Tossed in a light lemon vinaigrette.*gf (SEASONAL Aug-Dec)
– Southwestern Caesar Salad with romaine, three cheeses, tomatoes, corn, black beans, avocado, and house made tortilla strips, all tossed in a smoky chipotle Caesar dressing. *gf

– Classic Caesar Salad with romaine lettuce, parmesan cheese, and house made croutons all tossed in a creamy Caesar vinaigrette

– Traditional Greek Salad with romaine, tomatoes, cucumbers, red onion, feta cheese, and Kalamata olives over iceberg and romaine lettuces with a Greek yogurt dressing *gf

– Watermelon cubes with fresh mint and feta cheese, sprinkled with a balsamic vinaigrette *gf
*V= Vegan          *gf = Gluten Free
**Even Though Some of Our Items are Gluten Free, They are Not Prepared in a Gluten Free Kitchen and Therefore Cross Contamination Is Possible**
Craving Something More? We Specialize in Custom Menus! If You Have a Menu Idea or Dietary Restriction, Please Let Us Know and We Will Do Our Best to Accommodate Your Tastes!
Please Contact Us for Pricing. Due to Fluctuating Food and Labor Costs, Price Lists Are Not Available Online